The City of Aventura is one of Miami's most beautiful suburbs. Originally incorporated in 1995, it is home to excellent schools, a world-renowned resort, the fifth largest mall in the US as well as some of the nicest weather in the United States. Located about 1 mile west of the ocean and 15 miles from Downtown, it's known for it's schools, it's communities, and most of all the shopping at the world famous Aventura mall. If you're looking for homes in Aventura, there are a number of neighborhoods that are definitely worth looking into.
There are a number of communities and developments throughout Aventura that all boast their own exceptional set of amenities. Many of these neighborhoods are ideal for families, young couples, and even young adults.
Aventura Lakes
Located in the heart of Aventura, Aventura Lakes is an exclusive gated community with beautiful single-family homes, excellent central location, and unmatched safety and security.  As a private lakefront community, Aventura Lakes offers stunning lake views, community amenities and activities, as well as exclusivity. Its location is also excellent. Aventura Lakes is just minutes from the Waterways Shops, Aventura Mall, Turnberry Resort, shopping and dining in Aventura, and the sandy shores of Golden Beach. Aventura Lakes covers more than 32 acres of beautiful Miami landscape and has 4 oversized crystalline lakes on the property. There are more than 400 homes in the community, making it a vibrant family neighborhood in Miami.
There are 14 different single story and two story floor plans in Aventura Lakes, so that there are plenty of options for buyers to choose from as well as make their own. When it comes to the interiors of these homes in Aventura, no expense was spared. Many of these Miami estate homes in Aventura Lakes range in size from 2,000 square feet to just over 3,200 square feet.
With beautiful waterfront views, excellent location, shopping and schools, homes in Aventura Lakes range in price from $700,000s to just over $1.5 million. Start your search for Aventura properties using our free property search tool.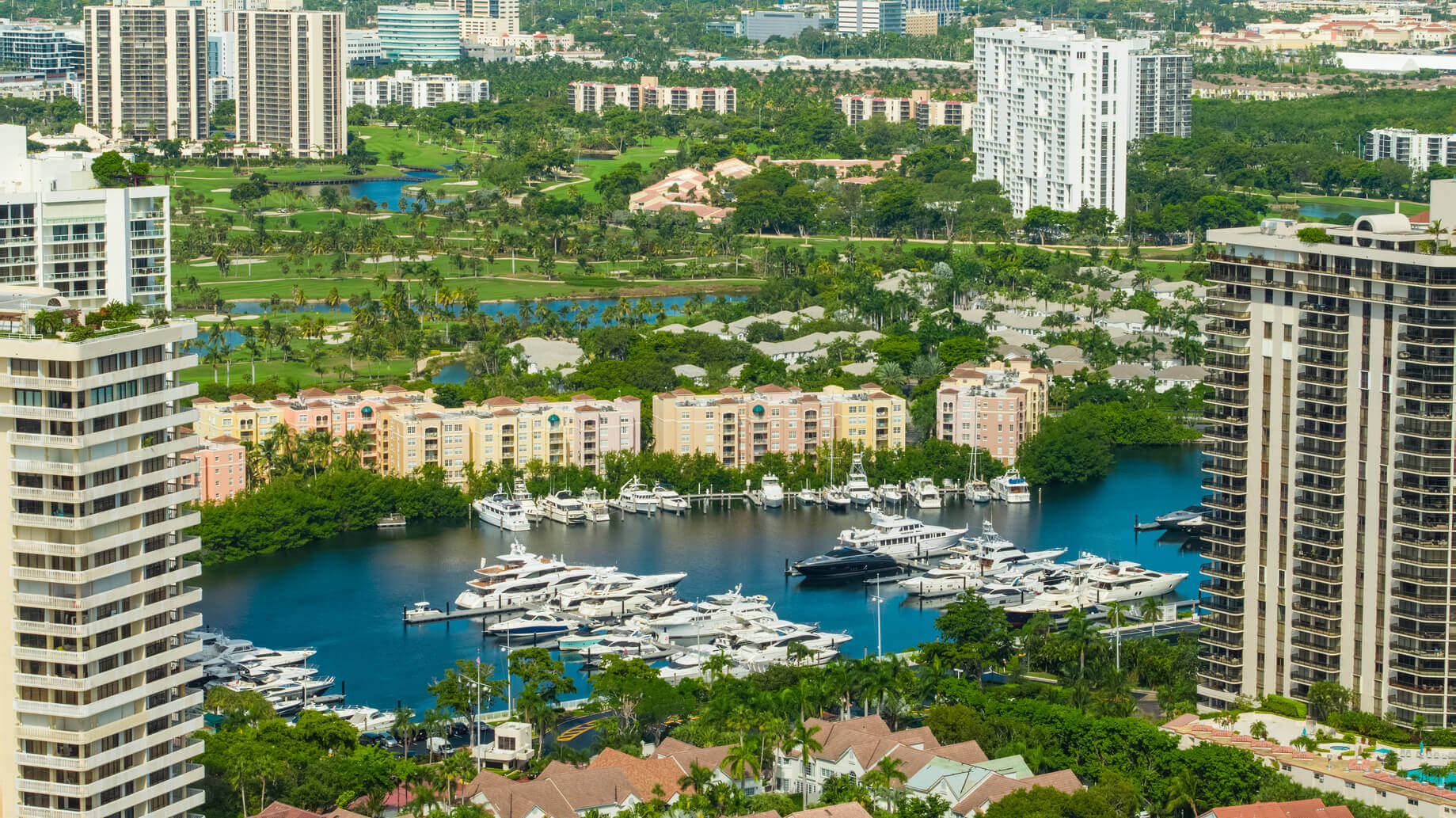 The Waterways
The Waterways is actually an area of Aventura that is made up of a number of gated communities, high rise buildings, and apartment complexes that are all centered around the Waterways Shoppes. These communities are typically inhabited by young families due to the close proximity to excellent schools, childcare, activities, and religious programs.
Prices for homes in Aventura Waterways range from 1 bedroom rentals to million dollar single-family waterfront homes, so there really is something for everyone in this North Miami community. There are also a number of schools in the vicinity, both private and public so families with children of any age will be right at home.
The Waterways Shoppes is in walking distance to many of the neighborhoods and communities in the Waterways making it a popular place to shop, eat, and congregate for many residents. The Waterways Shoppes also has a beautiful marina and waterfront views as well as a number of Kosher restaurants.

Williams Island
One of Aventura's most luxurious resorts and communities since the 1980's, Williams Island is an 84-acre private island community that has countless features and amenities in addition to it's luxurious buildings and stunning ocean views.
There are a number of luxurious high-rise properties on the island, each of which has it's own individual style, architecture and individual amenities. Two of the most recent additions, Villa Flora and Bellini, were added in 2007 and 2013 respectively. Bellini was developed by world famous Martin Z. Margulies. Bellini is a beautiful 24-story boutique residential development consisting of 70 luxurious and private units. Each residence features its own private elevator, 10-foot-high ceilings, large floor plans and three bedrooms.
Williams Island also features a newly renovated 27,000 square foot spa with an extensive array of treatments that are designed to lessen stress and wash away worries. Whether you're looking to relax with a massage, get pampered with a facial, or get a workout in at the state of the art fitness facility, or even take a yoga or pilates class. William's Island also offers on-site trainers, dietitians, and even has a full hair salon. Williams Island is one of the most exclusive and luxurious places for homes in Aventura.
Other Communities & Homes In Aventura
There are a huge number of other rental apartment communities and condos located across the City of Aventura. These communities and developments are great for young professionals, young families, adults and couples, as well as retirees. Communities include Promenade at Aventura, Camden Aventura Apartments, Lincoln Pointe, The Venture, Midtown Aventura, Waterford Apartments and many more.
The Aventura Lifestyle
Aventura's development began in the early 1980's and has been a carefully planned and executed evolution ever since. There are plenty of carefully manicured open green spaces, community parks, walking and biking paths, and more that really set the city apart from some of it's neighbors.
The Aventura Mall is also a major attraction for the Aventura area. The mall features a number of high-end stores, restaurants, and events that draw people from all over South Florida. The Aventura mall is also an excellent anchor to the City of Aventura and the prices of it's home, as it creates so much value and draw for the community, owning a home in Aventura nearby is an attractive feature.
If you'd like to see homes in Aventura or are interested in renting an apartment or condo in Aventura, Sunny Isles Beach, North Miami Beach, or anywhere else in South Florida, then you'll want to work with a real estate brokerage that is experienced with all of Aventura. schedule a time to speak with one of our experienced Miami real estate agents today.